</p>
As many of you wonderful readers know there was an event this past Saturday. Trek Bicycles made the brilliant decision to head to the coast with a truck full of very expensive and shinny bicycles! The purpose of this trip? To allow the cyclists (especially the mountain bikers) of this region to demo some of the greatest bikes on the planet! With over 40 bikes to choose from there was something for everyone.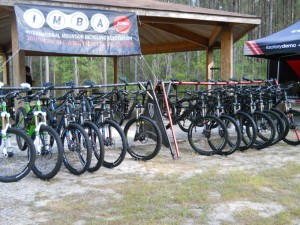 The day started out at 10am and the riders started showing up quickly! Tom, the wonderful driver/mechanic/do everything man from Trek as well as Brandon and Billy from Two Wheeler Dealer had their hands full straight from the beginning! Bike after bike was checked out and run around the wonderful Brunswick Nature Park Trails. The most popular bikes were the 29er's that were on hand. The Superfly 100 Elite Carbon was a huge hit with many riders including our new Secretary SueMay Lewis! Many riders came away wishing their checking accounts were a little larger so they could have another bike in their family!
Meanwhile Kelsey and his lovely daughter were there hammering out burgers for lunch for all participants, provided by Cape Fear SORBA! We had so many riders we simply RAN OUT OF FOOD! There wasn't even an Oreo left over.
When it was all said and done we had over 50 people register to demo a bike with most of them trying AT LEAST two bikes. That means 100+ bikes hit the trail during the course of the demo that only lasted for 5 hours.
So what does this mean? Well first we got nothing but positive reviews from riders. Those that had never ridden the trail loved the work we have done. They also loved the demo bikes! We also got great reviews from Two Wheeler Dealer, their Trek representative, and the demo truck driver himself Tom! This all combines to mean that they want to make this an annual Spring event!
So thanks to everyone who made this event possible. The folks at Two Wheeler, our volunteers from CFSORBA who built the trails, and the volunteers who helped make this event happen. We want people to have fun and enjoy the trails. Thanks to all of the hard work Saturday we accomplished that, and much more.
Check out some pictures from the Trek Demo at Brunswick Nature Park. Thanks to Jim Mincher from Two Wheeler for taking and posting these pics!