Blue Clay Bike Park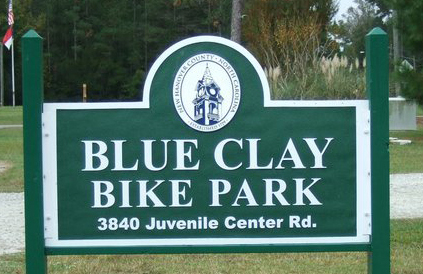 Trail Name: Blue Clay Bike Park- Counter Clockwise
Location: Castle Hayne, NC
Trail Length: About 7 miles with all options.
Hours and Rules: Open Dawn to Dusk. Please DO NOT RIDE WET TRAILS. Riders are expected to wear helmets.
About Blue Clay: Located off of Blue Clay Rd, this trail is home to 7 miles of single track trail. The Blue Clay Bike Park has a long and storied history. There have been trails on this site for many many years. However, they have only been legal for less than ten years. Members of the Cape Fear Cyclists helped initiate the construction of this park by working with New Hanover County to get approval for trail building. The park has seen its use grow over the past 5 years, with over 3000 visitors riding the trail in 2009 (and those are just the ones who signed in!).
The Park sits on an interesting piece of land. On one side of the street (lets call it the parking lot side) trail builders have had to deal with several sections that are considered "wetlands". We have elevated many sections of this area to make it as water resistant as possible. On the opposite side of the street (what locals call the "Hilly Side") we have built trail on top of an old county landfill! Obviously this has its pro's and con's. We have some terrain change to play with but we also get to deal with interesting smells from time to time. We are also not allowed to dig on the hill for fear of breaking the 3 ft clay cap that separates us from the mound of trash we are riding on.
The trails themselves are fun and house an interesting array of variation. Since large sections of it are low lying the biggest trail obstacle you will find here is roots. Lots of roots in some places, and only a few in others. You can expect twisty turny single track here since we have limited space to work with. There is a beginner and intermediate section as well as a pump track near the parking lot. There is one area where you will have to cross the street to get from one side of the trail to another. PLEASE be careful and stop to make sure there is no on-coming traffic. The County Jail is on the same street and cars can come flying down the street from time to time going very fast. Trails are well signed.
Riding Blue Clay when wet/soft will enable the trail to hold more water longer and the time needed to dry out will continue to increase. Please be good to the trail and stay off of it following rain. This trail can tend to hold a lot of water.
Below you will find a map of Blue Clay (as well as a downloadable version) and a google map for directions. Happy Trails!
BLUE CLAY TRAIL MAP DOWNLOAD (.BMP) or BLUE CLAY TRAIL MAP DOWNLOAD (.PDF)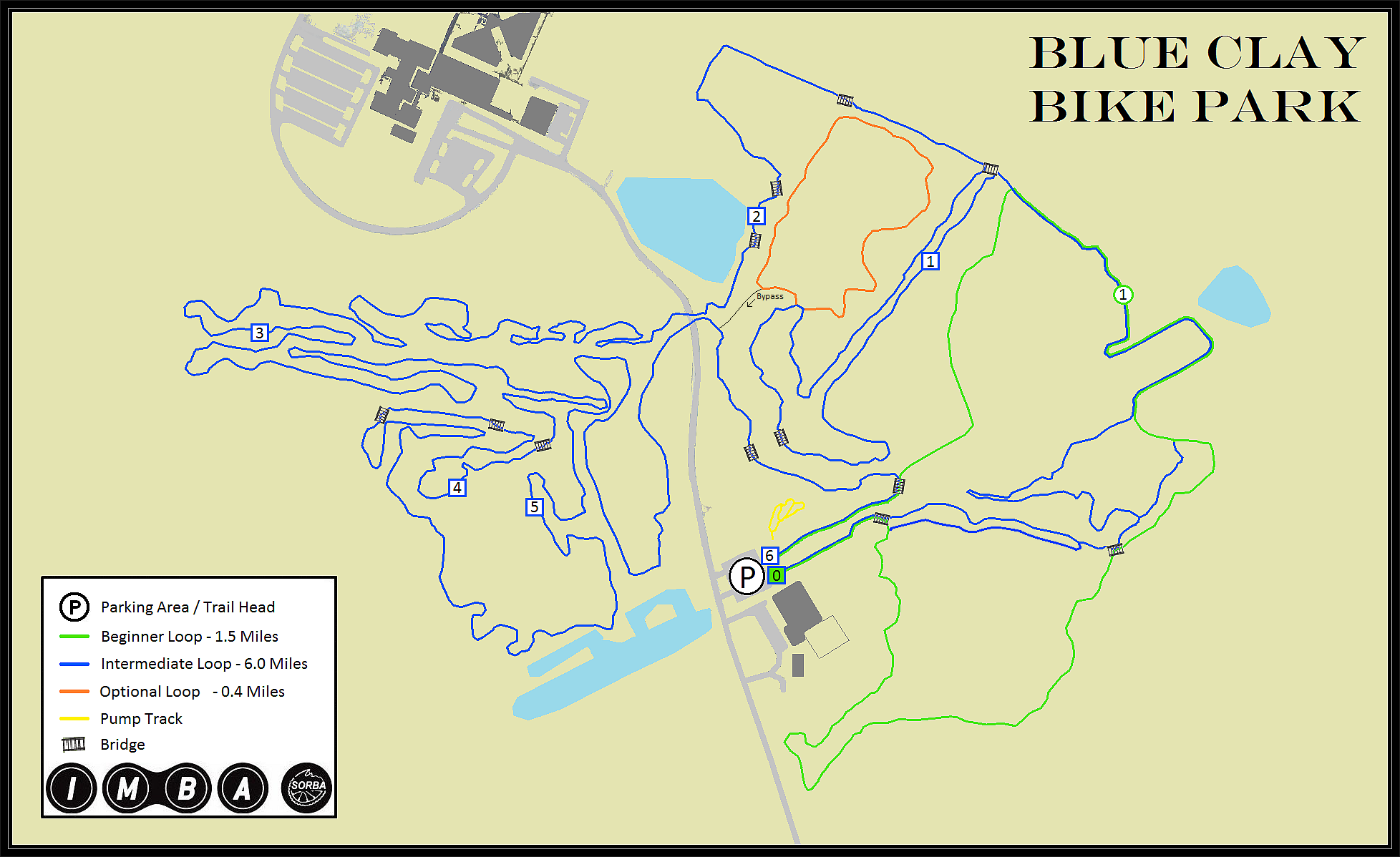 View Blue Clay Trails in a larger map