We are going to give everyone a chance to get to know our officers over the next couple of days. This is a chance for everyone to know who leads the club, their goals, and what drives them. We are very fortunate to have Greg Brinson serving as CFSORBA president for his third term.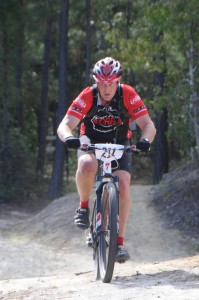 1. How long have you been riding a mountain bike?
I have been riding for 6.5 years.
2. What/Who launched you to hitting the trails?
I was introduced to mountain biking by an employee of mine.  I was already running to lower my cholesterol, but I really wanted to try something different.
3. What do you currently ride?  What is your dream ride?
I currently ride an S-Works Stumpjumper, Titus RacerX 29er, and a Soma 29er single speed.  My dream bike would be an S-Works Epic 29er.
4. If you had an unlimited budget, where would you take your next bike trip?
All up and down the East Coast.  I love riding East Coast single-track, it rocks!
5. What do you hope to accomplish while serving on the CFSORBA Leadership Team?
First, I hope to see the Brunswick Nature Park project completed.  Second, I would like to see The Blue Clay Trail connected to the Castle Hayne Park and an Advanced Loop added.  Third, I would like to see a park project in Pender County.  Finally, I would like to see a kid's ride program started through Cape Fear SORBA.  I feel that kids are the future of our sport and they need to get outside and off the couch.  All the work we do as a club is rewarded when you see these kids having a great time on the trails.