Will Pegram is a new face to many of us in the Wilmington biking community, but this kid is no stranger to dirt trails.  Will has jumped in head first with Cape Fear SORBA and was just elected as our club's vice-president.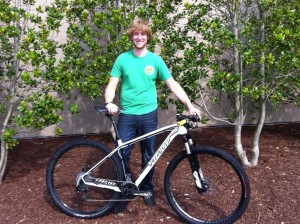 How long have you been mtn biking?
I have been mtn biking for about 2 years now.
What/Who launched you to hitting the trails?
I've raced cross-country motorcycles sense I was about 7-8 years old. I started riding mtn bikes for cross training and I really enjoyed it and was really successful at the local races after that I just kind of stuck with it. So far so good!
What do your currently ride? What is your dream ride?
I currently ride a 2012 Stumpjumper HT Expert. Dream bike would be a s-works Stumpjumper HT with Sram XX
If you had an unlimited budget, where would you take your next bike trip?
If I had unlimited money, I would take my next trip to Whistle mtb park in Canada for some awesome shredding!
What do you hope to accomplish while serving on the CFSORBA Leadership Team?
I would love to see Brunswick Nature Park completed. I would also like to see another park open up close by. Overall I would just like to see Cape Fear SORBA family keep growing in numbers.