</p>
Hello everyone! Are you in need of a new cycling Jersey? Is that old one beginning to stink up your closet something fierce? Do you want to support your favorite local Mountain Bike Club? Well you are in luck! Cape Fear SORBA is proud to announce that we are now accepting orders for our NEW CFSORBA jersey in Red/Black! First check it out below, its spiffy!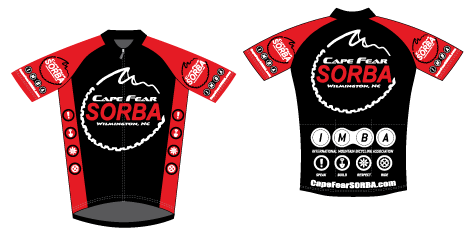 These jerseys will be made by Primal Wear instead of Canari as they were last time. The price is $60. If you live outside New Hanover or Brunswick County you may pay an extra $5 to have them shipped to you. They will also be FULL ZIP. Fun fact: for every jersey that you order $10 comes back to the club and $1 goes to IMBA! You get a spiffy jersey and support both IMBA and Cape Fear SORBA all at one shot! How about that? So are you excited? Are you ready to order? Alright then!
HOW TO ORDER
First we need to get you the right size jersey. That's very important. Please reference the Primal Wear size chart. Once you have done that very important step you are ready to order. There are two ways you can do so. I have attached to this email an order form. WE WILL ACCEPT ORDERS UNTIL APRIL 29TH! NO LATER.
1. Fill out the attached Order Form
2a. If you wish to order online email the order form to info@capefearsorba.com. You will then receive an invoice that you can pay via Credit or Debit Card
2b. If you wish to drop off your order to pay in cash/check you may do so by dropping the order form off at Two Wheeler Dealer.
Once you have placed your order its time to wait a bit. Its ok be patient. We have to wait 8 weeks from the date we place the final order with Primal Wear for the jerseys to come in. Once they arrive they will be available at Two Wheeler Dealer for pickup. So in conclusion.
Fill out order form.
To pay online email it back to info@capefearsorba.com
To pay in cash/check drop off form at Two Wheeler Dealer.
If you have any questions at all please feel free to email info@capefearsorba.com! You may click on the following link to view the Primal Wear Sizing Chart! PRIMAL WEAR SIZING CHART HERE
Download the Jersey Order Form HERE!!!!!! Jersey_Order_Form[1]