</p>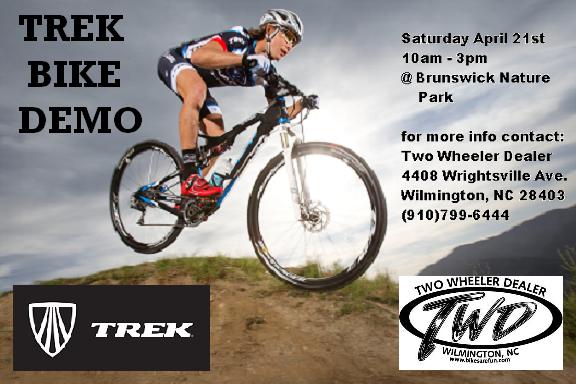 Hey everyone! We are a little bit more than a week out from the wonderful TREK Bicycles demo at the Brunswick Nature Park! Cape Fear SORBA will be there with the folks from Two Wheeler Dealer as we help show off some of the best bicycles in Trek's large fleet! Over 40 bicycles will be available for you to demo around the Park!
That being said Cape Fear SORBA needs a bit of help! We are looking for some folks that can help out by holding down the fort at the CFSORBA booth during the event, lead group rides for those unfamiliar with the parks mtb trails, and the big one: WE NEED A GRILL MASTER! That's right CFSORBA does plan to have someone grilling up some tasty lunch food for our guests but we need a volunteer to do it! Is there anyone out there that might be willing to help out with that job (or any of the others?). If the answer is yes PLEASE email info@capefearsorba.com and let us know.
In the mean time, here is the list of ALL the bikes that will be available for your riding pleasure at the demo. Remember bring your ID, helmet, and pedals(if you want to ride with clipless pedals). Enjoy the list. It is drool worthy!
2012 Bike Models                        Sizes
WSD Madone 5 Series / H3   47, 50, 52
Madone 5.2/H2                    54, 56, 58,
Madone 6.7 SSL/H2      52, 54, 56, 58, 60, 62
Trek EX 9.8              15.5, 17.5, 18.5, 19.5, 21.5
Madone 5.9/H2                        56, 58
Trek Remedy 9.8                 15.5, 18.5, 21
Superfly AL Elite Hardtail        17.5, 19, 21
WSD X-Caliber                      14.5, 15.5
Speed Concept 9.8M                    L
Superfly 100 AL Elite               17.5, 19
Slash                                    17.5, 19.5
Rumblefish Pro                     17.5, 19, 21
Superfly 100 Elite               15, 17, 19, 21,
Top Fuel 9.8                      17.5,18.5, 19.5
Lush SL                               14.5, 16.5
Lush Carbon                              ?
Stop drooling folks. Get your gear and get riding! See you at the park.