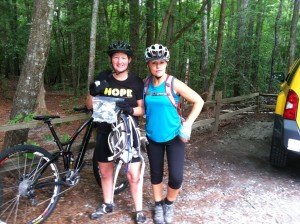 TWO exciting trail happenings today at Brunswick Nature Park (BNP).
1) North Brunswick Magazine is looking to take some off-road biking snap shots today at BNP for their full spread article they will be publishing on our upcoming Brunswick MTB Festival.  If you or anyone in your family (kids included) are planning to hit the trails, please come out at 3:30 pm and there is a big chance you could be the next cover model for North Brunswick Magazine's feature article.  Do not forget to wear your CFSORBA jersey if you have one!
2)  The Ladies Ride is TODAY at BNP!  Local Dirty Dames will begin meeting at 5:30 pm and do not forget your helmet and bug spray juice. Beginners start at 5:30pm and advanced at 6pm.  Also, rumor has it that there will be a little friendly competition between SueMay Lewis and Kelly  Hatcher as to who can ride the new rock garden with the fewest bumps and bruises.  You do not want to miss this picture-perfect rock-crossing competition!
RSVP at this event's MeetUp page