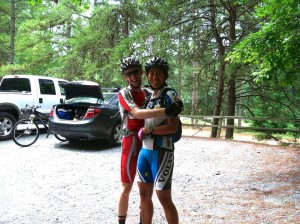 Hello Cape Fear SORBA. This is Austin Fenwick. Over the last 5 years I have filled a lot of roles, including grant writer, website content writer, event organizer and club Vice President. As many of you already know, I will be moving to Chicago in the coming days. I just wanted to take this opportunity to say thank you.
5 years ago this club was in its infancy. Blue Clay needed work, and Brunswick Nature Park was just a twinkle. A lot has changed since then. There were some hard times and some near misses but now the mountain bike community is the strongest in its history here in the Cape Fear. Some people have said it wouldn't have been possible without the work and dedication I have shown. I don't necessarily buy that though.
You see we couldn't have accomplished the amazing things we have without everyone reading this doing their part. Trails don't build themselves. Leaders and volunteers don't just show up for any old thing. Each and every one of you played a role in creating this community. You will also play a role in maintaining it.
Cape Fear SORBA is on the verge of something ground breaking in Brunswick County. The confidence that both the city of Leland and Brunswick County have shown in our club is tremendous. So keep pushing. Don't stop now, not when its just getting good. I am infact jealous of all of you for getting to stay here and witness this tremendous growth that is going to continue in the coming years. Keep it up, you have every reason in the world to believe its only going to get better.
With that being said, I want to say thank you to a few individuals who have made my time here exceptional.
To Jeremy Cavanaugh, thank you for getting me on a bike for the first time. Who would have thought it would take us where it has?
To Steve Mangiacapre, thank you for putting up with a babbling college student who wanted to put on an event. And thank you for having the confidence to think I belonged on the Cape Fear SORBA board.
To Greg Brinson, thank you for your confidence in me. I hope I made you proud.
To SueMay Lewis, thanks for proving that the ladies here wanted to ride. You have no idea how proud you and the ladies have made me.
To Don Brown, thank you for stepping up to fill the void I am leaving behind.  I couldn't ask for a better person to fill these roles.
To Tse-Lynn, thank you for putting up with me through every grant application, every event, and every idea. Thank you for pushing me to be better.
To everyone else. Thank you for all the memories. Racing, riding, talking, building and everything in between. I've made friends that I will never forget. I am proud of all of you for what we have accomplished.
I love you all, thank you so much. I will see you soon.
Happy Trails Cape Fear SORBA, the ride isn't over. Its just begun.
Austin Fenwick