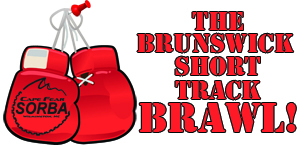 Hello everyone! The Brunswick Brawl is coming up tomorrow so I wanted to do one last reminder about the event as well as information you may need to know.
First of all please remember that we have a time change tonight. Since we are moving back one hour everyone should be well rested for the race. While forgetting this won't make you late for the race, it will make you significantly early…which may mean you get to help us setup to stay warm! So with that in mind, you may want to remember that clock on your dresser.
Now for the important stuff.
Please remember that the event registration will open at noon with the first race going off at 1pm. You can race both the Mens Open and Singlespeed categories but you must register for both BEFORE the Mens Open race starts. You can not race and then decide to sign up for the Singlespeed and you cannot back out if you registered for both. If you do register for both you will get a $5 discount on each race ($10 total). There are no refunds. Please remember to get there and register for your race at least 20 minutes early. The later people get there the later the races will start. No racers may register with 10 minutes or less to go before race time if you weren't already in line.
Full race schedule is as follows. Remember start times are subject to slight change.
Open Men's Category: 1 Hour Race Time, begins at 1:00pm (Racing on the 2.5 mile course) Single Speed: 1 Hour Race Time, begins at 2:10pm (Racing on the 2.5 mile course) Beginner Men: 30 Min Race Time, begins at 3:20pm (Racing on the 1.2 mile course) Women and Juniors(12-16): 30 Min Race Time, begins at 3:55pm (Racing on the 1.2 mile course) Kids: 1 lap of a modified loop, begins at 4:25pm (modified loop)
Wear your CFSORBA Colors!
Don't forget that we want you to wear your CFSORBA jerseys for a club photo at the Brawl! Need a Medium or XL? We have one of each for sale at the Brawl this weekend for $52. In addition we will be taking orders one final time for one final batch of club jerseys. The price for them are $52 each. You can fill out the forms and pay at the race or Trail Care Crew Visit next weekend.
Bicycle Gallery will be on hand!
And don't forget that the Bicycle Gallery of Jacksonville, NC will be on hand providing on site mechanic services and demo bikes! Check out the Brunswick Brawl page on the Cape Fear SORBA website for more details on what bikes will be available!
That's it everyone! The trail is ready (despite the rain!) and waiting for you. Which brings up the biggest question of all…are you ready for a Brawl?
I am. Bring it on.