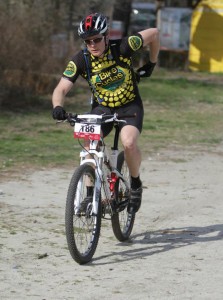 Bill Sessoms is one dedicated off road biker.  You will find very few other riders who put the effort, miles, and speed on the trails as Bill.  The picture to the left is the closest we have come to capturing a snap-shop of the magic pancakes Bill uses to refuel while cranking out the high RPMs.
Tell us about your journey into the sport of mountain biking?
I grew up with a bmx trail in the woods behind my house in Whiteville, NC.  Later, I later had a quarter pipe in my driveway and loved riding my Hutch while doing freestyle tricks. In college I opted to buy a used Rock Hopper instead of going to a fraternity formal. Also, I rode the Chapel Hill trails for a few years and then moved to Boulder, Colorado where I really picked up the sport.   I really fell in love with biking in Colorado while visiting Moab and Winter Park.  In 1996, I moved to Cary, NC and started riding the Raleigh trails, before finally moving to Wilmington in 1997.  Ironically, I hung the bike up because there were no trails.  Finally, four years ago I found Blue Clay and demoed a full suspension bike. I bought a Specialized Epic as soon as I returned the rental. Two years later, I bought a carbon Epic and loved it.
What do you currently ride?
I just bought a 29er dream bike from Wheels4life.org. All proceeds go to the charity and I got a titanium 29er decked out in beautiful Crank Brothers accessories.
If you had an unlimited budget, where would you take your next bike trip?
My dream would be to try all the IMBA epic trails around the world with my friends.
What do you hope to accomplish in serving on the leadership team of Cape Fear SORBA?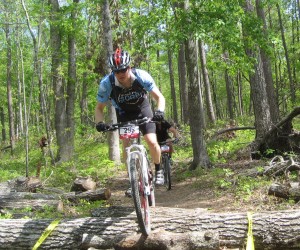 I have an interest in open spaces and land conservation in the face of urban sprawl.
Any closing thoughts?
I would also like mention the tremendous health benefits of finding a sport like biking that I love to do. I dropped almost 20 pounds since I started biking. My cholesterol and triglycerides dropped by huge amounts. I've got my resting heart rate down to 48. I sleep better, eat healthier, work more efficiently and have better relationships with my family and friends due to lower stress and a happier disposition. It has truly been a life changing activity!