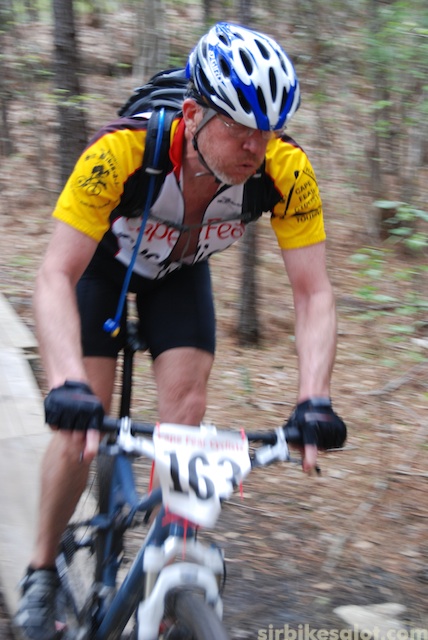 Hello everyone in Cape Fear SORBA land! On March 6th Cape Fear SORBA will be hosting the 3rd race in the Coastal Carolina Off-Road Race Series and we are hoping for a huge turnout! Never raced before or looking to get back into it? Why not do it on your home course! There are numerous categories and all have prizes awarded 3 deep in each! Plus, you can have bragging rights over the racers from other clubs and regions! Doesn't that sound fun? The classes as well as distance and entry fee have been posted below. For more information check out www.ecvelo.org!
| | | |
| --- | --- | --- |
| Class | Approximate Distance | Entry Fee |
| Expert | 24 Miles | $25 |
| Sport, Sport 40+, Singlespeed | 18 Miles | $25 |
| Beginner, Beginner 35+, Masters 45+, Women | 12 Miles | $25 |
| Youth | 6 Miles | $10 |
| First Timer's | 6 Miles | $10 |
| Kids | 1 Mile | !! Free !! |
In addition, Cape Fear SORBA is also in need of volunteers to help us out with the race. We will need help with registration, timing, course marshal's and setup on the day of the event. Just email me at thecreeper35@gmail.com if you can help and tell us what time you can be there and how long you can help!
Also do not forget! We have a work day and meeting this Saturday at Blue Clay! The workday starts at 9am and we will be prepping the course for the upcoming race. The meeting will follow soon after (at about 3pm and running till 5pm) and will deal with logistics for the race as well as other club business.
Thanks CFSORBA, Mountain Bike or die!
Austin Fenwick
Vice President: Cape Fear SORBA
thecreeper35@gmail.com