Until this past Sunday, the largest registration for a CCORS race has been 119 adults, youth, children.
This Sunday we are proud to announce we had a RECORD 146 RACERS!!
I would like to thank the following volunteers from Cape Fear SORBA for helping to make our Coastal Carolina Off Road Series race on Sunday a huge success: Steve and Mary Ann Mangiacapre, Bryan and Jenny Wienkle, Barry Wray, Brannon Thompson, David & Renee Lennard, Jamie Champion, Jere Dearing, Bill Sessoms, SueMay Lewis, Brad Gardner, Brenda Brinson, Jeremy Cavanaugh, and of course Don Brown, our own Trail Mayor.  Thanks to these Cape Fear SORBA volunteers we can continue on our mission of helping to build a better community.  Thanks.
–Greg Brinson, Cape Fear SORBA President
We want to thank Realtor & Racer Sean Skutnik with Coldwell Banker for holding a free raffle for racers and non-racers of $300 worth of gift certificates for Bike Cylces-Wilmington.  Thanks for helping build the excitement for this groundbreaking race day.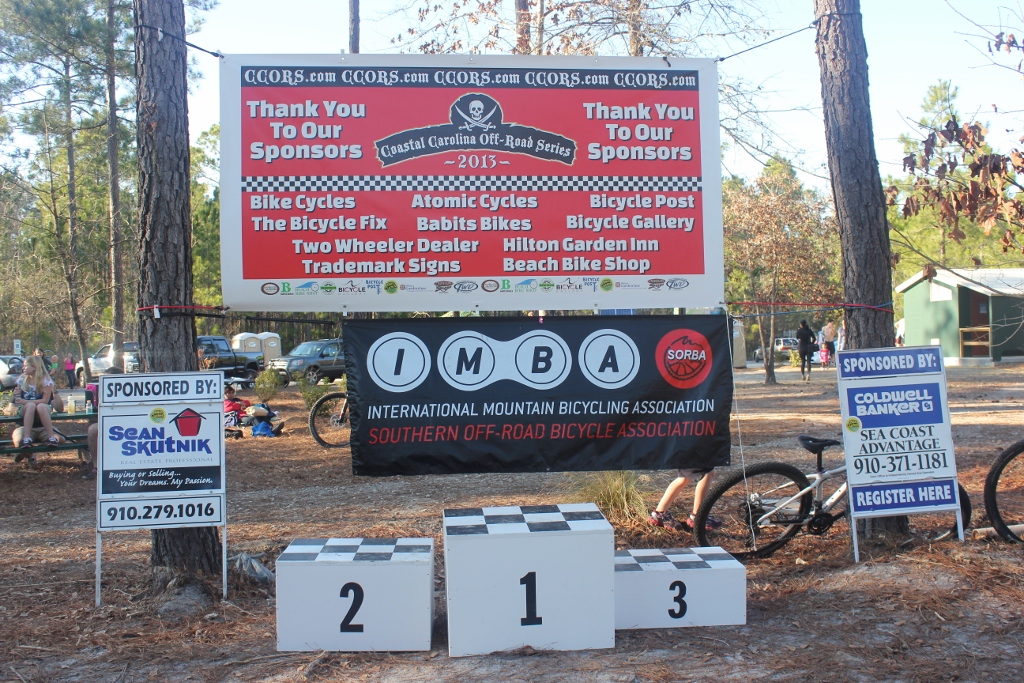 Also, our CCORS 2013 could not happen without generous sponsors across North and South Carolina: Thanks to Beach Bike Shop– Myrtle Beach, Babits Bikes– Greenville, Atomic Cycles-New Bern, Bicycle Gallery-Jacksonville, Bike Cylces-Wilmington, The Bicycle Fix-Myrtle Beach,  Bicycle Post-Greenville, Hilton Garden Inn-Mayfaire-Wilmington, Two Wheeler Dealer-Wilmington, and Trademark Signs-Wilmington.
Thanks Jeff LeBlanc for providing the awesome race video that encapsulates the kids and adult race!

With all this excitement,I am surprised you are still looking for Race Results!  So here goes, 2013-CCORS-2-BNP-Trail Results.
Pictures found on the Facebook site.  If you don't have Facebook, we don't mind emailing you pictures as requested.  Just email cfsorba @ gmail dot com.