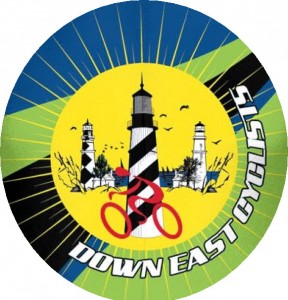 Down East Cyclists is VERY excited to be hosting CCORS Race #3 at our newly developed trail at the Henderson Pond Recreation Area on board Camp LeJeune in Jacksonville, N.C.  Their volunteer work force has been hard at work since December 2011 and have completed 6 miles of a planned 7-8 miles of singletrack.  As Eastern Carolina is missing the "Mountains," they have tried to create a course that is both technical and fast to make it fun for beginners and experts alike.
As the trail in on a military installation, please give yourself a little extra time race day morning to pick up a visitors pass if you are not a DOD member.  This process is painless  so if your car does not have a DOD sticker on it, follow these instructions:
When entering the base through the main gate off of Hwy 24, keep to your right and enter the visitors center just before the gate guards.  Only the vehicles driver need enter the building and bring your; 1-Drivers License, 2-Vehicle Registration & 3-Proof of Auto Insurance, tell the persons working in the center you're here for the MTB Race and you destination is the "Henderson Pond Rec Area".  Passengers riding with you need not go inside but should have some sort of ID on them "just in case" the gate guard wants to see one.  Once you have your visitors pass, display it on the dash and head to the gate.
Directions to the trail:  Enter the main gate to Camp LeJeune off from Hwy 24, if you don't have a DOD sticker on the car you're in, follow instructions above.  Pass through the main gate and continue straight through two traffic lights.  Aproxitmitly half mile past the second traffic light there will be a left hand turn cross over road marked as "2nd Med PMU", there will also be race day markers there as well.  As there is no left hand turn lane here, please use caution and your turn signal, there is a parking lot at the end of this road as well as parking along side this road.
Any one looking to come check out the race course prior to race day should contact Jeff LeBlanc for base access:  ncleblancs@ec.rr.com