Hello everyone! Another wonderful weekend in Cape Fear SORBA land with our first of many outreach events as well as the 5th race in the CCORS series! So who wants to recap? You in the back? Ok lets recap then!
So first on Saturday CFSORBA had our first of many outreach events as we had a space at the EarthDay Festival at Hugh McRae park! Special thanks go out to Corey and April for their hard work in making that happen. They put together the entire event from idea to putting the booth together. So thanks for all your hard work! We gave out alot of information and we continually got alot of surprised looks when we told people there was mountain bike trails in this area. I guess thats what happens when you live so close to the coast!
Moving on to the 5th race in the Coastal Carolina Off-Road Race Series! We had another strong turnout, 68 people to be exact. This time we had a great turnout of kids racers, 8 total, to compete for bragging rights in our wonderful kids race! Want to see what that race was like? Well friend of the club Jeff LeBlanc took video of the kids that i am happy to post right here!

Congrats to all the kids racers for their great effort!
Now onto the adults shall we! The adults of course were tense and ready to go once the 2pm start time finally arrived.
They certainly couldn't help themselves! The course was as fast as I have ever seen it…and i would know, I raced it! Sadly I couldn't seem to keep myself off of the ground for the first half lap! Here are a few more pictures for your viewing pleasure!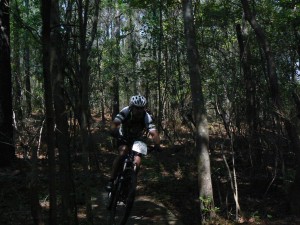 If you want to see all of the photo's from this race (thanks Jeremy!) you can view them below
Don't forget now everyone, the last race in the series is May 22nd in Havelock NC at the Piranha Pit! Come out and race and you can see the Cape Fear SORBA team take home the championship for the team classification! Thats right all you other teams, that bad boy is coming home with us this year!
Also, there is a workday scheduled for May 14th at the Blue Clay Trail starting at 8am. More info via Barry Wray coming soon.
See you on the trails.