Hey everyone, a quick guest post coming in from one of our Ladies group ride leaders SueMay! They just had their third Ladies only ride and it was a big success! Keep the votes coming for the first ever club jersey by the way! Its currently a two horse race, but that could change!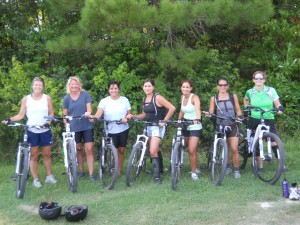 Dirty dames; but not what you're thinking….
The third SORBA women's group ride turned out to be a great evening. An awesome group of women from different backgrounds sharing the same interest for mountain biking.  New and experienced riders hit the trails of Blue Clay Bike Park to learn, encourage, teach, sweat and laugh. And no near misses with squirrels, turtles, deer, snakes or giant spiders either.
We are all hoping for just as great a turnout next ride.
SueMay Lewis
That next ride by the way is Tuesday, August 2nd at 6pm! Come join these lovely ladies and get dirty!!