Make sure to attend next week's monthly CFSORBA Club Meeting, December 13th, 6 pm at Which Wich in Mayfair.  This is the last meeting for 2012. Come out and enjoy some great food while discussing the final details for CCORS 2013, future Tombo Field Trips, and upcoming work days to keep our the bike trails in top shape.  RSVP at this event's MeetUp Page.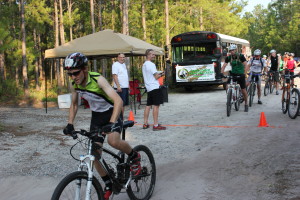 In addition, we are excited to have former CFSORBA Vice President, Austin Fenwick, back in town from Chicago for a quick visit and there will be a group ride on Saturday, December 15th, 7 am at Brunswick Nature Park.  Austin has been instrumental in growing the mountain bike trails, CFSORBA, and biking awareness in the Cape Fear Region.  Let's show him what he has been missing! RSVP at this event's MeetUp page.
Finally don't forget the CCORS 2013 schedule has been released and more detail are coming soon.  Mark these dates on your calender!
Race #1, Feb. 10, 2013 – Bicycle Post, Greenville, NC – XC
Race #2, Feb. 24, 2013 – Blue Clay Bike Park, Wilmington NC – XC
Race #3, March 17, 2013 – Henderson Pond, Jacksonville, NC – XC
Race #4, April 7, 2013 – Horry County Bike Run Park, Myrtle Beach, SC – Short Track
Race #5,  April 21, 2013 – Bicycle Post, Greenville, NC – XC
Race #6, May 5, 2013 – Brunswick Nature Park, Wilmington, NC – XC