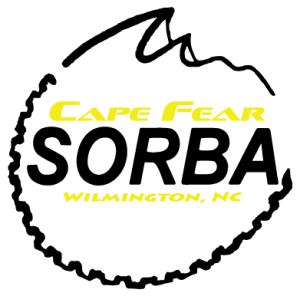 Cape Fear's Southern Off-Road Bicycle Association had a banner year in 2012.  As we prepare to dream big and plan for 2013, let us first look at the successes of last year's victories and accomplishments.
Big Win #1: Designed, built, and maintained 6 miles of new trails in Brunswick County at the Brunswick Nature Park-Leland, NC.  Major focus was spent in 2012 completing a 6 mile completed bike loop trail with Advanced Trail Features.  The club spent thousands of volunteer hours cutting new singletrack (beginner, intermediate, and advanced), installing culverts, spreading crush-n-run and installing (2) rock gardens, (2) raised wood structure, and (3) wooden jumps which all meet International Mountain Bike Association trail build guidelines.  Thanks to the hard work of CFSORBA volunteers, Brunswick Nature Park has become a hot-spot for off road bikers and their families.
Big Win #2: Organized, hosted, and implemented Cape Fear region's FIRST EVER Mountain Biking Festival.  Our club partnered together with the Coastal Land Trust of North Carolina and the Brunswick County Parks and Recreation Department in providing a fun day of bike fun for families.  We combined our Take-A-Kid Mountain Biking Day celebration and offered guided group rides for all skill levels, a skills area and skill clinic for adults/kids, bicycle maintenance classes, fundraising events (bike raffles and accessory giveaways), and children's group rides (Beginner level).  Over 700 adults and children attended Saturday's event.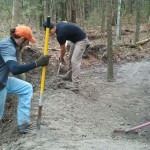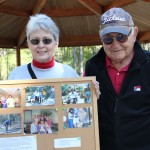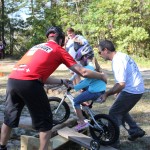 Big Win #3: Conducted multiple races on local trail systems including Cross Country, Short Track, Time-Trial, and 3/6 Hour Endurance. The 2012 Coastal Carolina Off-Road Series afforded us the opportunity to continue to host races in Wilmington, but in 2012 we were able to integrate the newly constructed trails at Brunswick Nature Park through a short-track race format.  Also, we were able to organize two separate Time Trial Race Series where entire proceeds went to support a local bike mechanic fighting cancer, as well as, a local rider recovering from a biking spinal injury.  Finally, we raised almost $10,000 from 14 corporate sponsorship in order to put on the Cape Fear region's FIRST ever 3/6 hr endurance race.  We had 86 Brunswick Brawl Racers (49- 3hr/37- 6hr) including a professional racer, cyclocross riders, and several out-of-town racers. $3,800 was raised and put immediately back to the local trails.
Big Win #4: Expanded opportunities for out-of-town mountain biking through partnership with Tombo Tours & Transport.  In order to boost club fellowship and camaraderie, Cape Fear SORBA entered into a partnership with Rod Cartier, owner of Tombo Tours & Transport.  The goal to provide several biking field trips throughout the calendar year to discover new trail and friendships.  During 2013, Tombo Tours has provided trips to bike trails in Charlotte, Uharrie, Warrior Creek and more.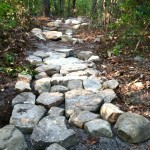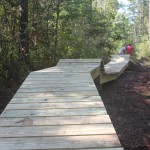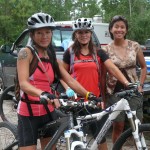 Big Win #5: Pursued and received grants for local trail building.   Thanks to our local Specialized Bicycle Dealer, Bike Cycles-Mayfair, Cape Fear SORBA received a $2,500 grant from Specialized.  Cape Fear SORBA also submitted grant applications for the Landfall Foundation, NC Recreational Trails Programing, and Adopt A Trail.
Big Win #6: Kept mountain biking enthusiast in the coastal North Carolina region informed on races, group rides, benefit events, local bike shop events, and more by increasing publicity efforts.  We were excited to see several new reporting agencies featuring Cape Fear SORBA in their magazines and newspapers of this past year.  Those news outlets included The North Brunswick Magazine Fall 2012 and Spring 2013 editions, The Star News– Wilmington newspaper, and The State Port Pilot of Southport, NC.  In addition, we substantially increased "likes" for our the club's Facebook page which is now 344 and growing daily.  Most amazing, might be the significant increased of web traffic to the club's website, www.capefearsorba.com: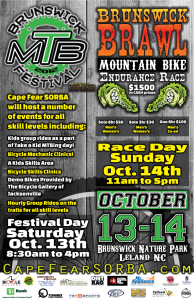 2011 = 21,943 Total Hits
2012 = 40, 783 Total Hits
Big Win #7:  Supported other regional mountain bike club races in hopes of encouraging their club's growth and community impact, network with other like-minded bike clubs, promoting Cape Fear SORBA's presence, and forming new friendships.  We sent multiple racers and teams to participate in the Tree Shaker Endurance Race @ Ann Springs Greenway; the Stache & Dash Race @ Horrey County Bike & Run Park in Myrtle Beach; the Shake & Bake Race @ Wannamaker North Trail in N. Charleston; and the Coastal Carolina Off Road Series.  This year, Cape Fear SORBA continued their 2-year series championship streak!
Big Win #8: Assumed role as 2013 Coastal Carolina Off-Road Series Club Coordinator.  After 13 years, the CCORS leaders have recognized the growth and success of our club and awarded us the privilege to oversee the upcoming 2013 race series.  As of date, this year's series is going to be the biggest funded series yet, with 10 corporate series sponsors along with many other secondary level sponsors.  Cape Fear SORBA is excited to work with ECVelo of Greenville, Down East Cyclist of Jacksonville, and Waccamaw Trail Blazers of Myrtle Beach to make see hopefully over 600 entrants from around North and South Carolina who travel to the CCORS events.
Big Win #9: Begin talks with Pender County on new trail system next to Heidi Trask High School– Rocky Point.  Our club president, Greg Brinson, worked with Pender County Planning Department and Pender County to just about gain final approval for designing, building, and building brand new single track on land adjacent to a local high school in Rock Point, NC.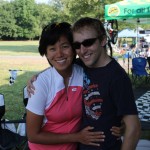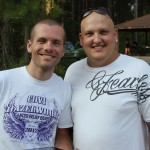 Big Win #10: Partnered with local bike shops to promote and provide a Jamis Bicycles and Trek Bike Demo at Brunswick Nature Park.  Cape Fear SORBA values supporting the area's local bike shops.  We value working together to provide area families with opportunities to test ride the best bikes in the mountain biking industry.
Big Win #11: Cultivate biking and club relationships with Ladies only rides, monthly club meeting at area restaurants, education trail work days with local boy scout troop, and more..
As amazing as 2012 has been for Cape Fear SORBA, 2013 is already showing signs of greater victories.  In just the first few weeks of 2013, we have been approached by four different North Carolina municipalities to build new trails in their counties.  Certainly, word is spreading about our club's success to create, enhance, and preserve great trail experiences for mountain bikers in the Cape Fear Region of North Carolina.
Considering joining the Cape Fear SORBA family today!