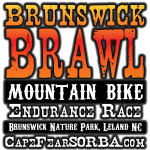 Thanks to Neal Boyd, at Charlotte Sports Cycling, we now have our final results for the 2012 Brunswick Brawl Endurance Race. We really appreciate Neal traveling a long way to help make our race a huge success.  Cape Fear SORBA hopes this is the beginning of a long relationship with partnering with Neal on upcoming races.
Also, we cannot imagine such a huge event like yesterday being pulled off without so many many volunteers and corporate sponsors.  We want to say a big thanks to our Cape Fear SORBA club officers lead by president, Greg Brinson.  In all honesty, we must give a BIG KUDOS to the brain-child of this event- Mr. Austin Fenwick!!!  Although Austin and Tse-Lynn are representing CFSORBA now in the big city of Chicago, his bike-prints were on every aspect of this year's Brunswick Brawl.  Next year we are already talking about changing the name of the event to the Fenwick Fury!
We are pleased to announce that thanks to our corporate sponsors, EVERY DOLLAR paid for registration fees will be going to sustain and build the trails!!!!  This could not have happened without our Title Sponsor-Leland NC and the many others sponsors that believed in this regional event: Bicycle Gallery-Jacksonville, Two Wheeler Dealer, Bike Cycles, Brinson & Sons, Which Wich, Mr. Appliance, Tombo Tours & Transport, Eastern MTB Tours-Mrytle Beach, TD Bank-America's Most Convenient Bank®, Dirt Rag Magazine, St. James Plantation, ZipQuest Waterfall & Treetop Adventure, Try Sports, and Proud Purveyors of Pork.
Finally, a BIG congrats to all the racers that collected cash payouts, as well as, the many racers that drove several hours to be a part of the Brawl!  In our opinion, anyone who attempts an endurance race and finishes deserves a big congrats!!
We hope this is only the beginning of a great regional event and you will mark your calenders for next year's race!!