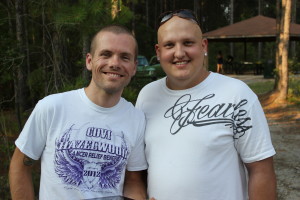 We were honored to have Covi as our surprise guest at this Thursday's Time Trial at Brunswick Nature Park!  This is the whole reason we have put together this TT Series as ALL FUNDS go to assist Covi pay some of his expenses in fighting cancer.  It was impressive to see people giving above and beyond their $5 race registration.  We even had local park visitors giving donations after hearing what all the bike ruckus was all about.
Also, we would like to thank Spencer Thomasson for driving up early from Myrtle Beach and setting up the Eastern Mountain Bike Tours Bus as our focal point for the race.
Here are the results from this week's Time Trial!
Check out the pictures on CFSORBA Facebook page.
And don't forget to RSVP for next weeks' Time Trial Race at our MeetUp page.