TT Series- Summer 2012
BNP Summer 2012 Time Trial Race Results #1 – June 14
BNP Summer 2012 Time Trial Race Results #2-June 21
BNP Summer 2012 Time Trial Race Results #3-June 28
BNP Summer 2012 Time Trial Race Results #4-July 5
BNP Summer 2012 Time Trial Race Results #5-July 12
Summer TT Series Final Results
For the overall results, if you have completed more than one week of the series, your fastest lap will appear in BOLD. I have also added your average speed for each Time Trial you have attended and your Average speed overall. Enjoy!
Also, thanks to two very awesome riders, SueMay Lewis and Sean Skutnik for being honest about missing a large section of the trail during week 1.  Many of you probably actually place better  because these are fast riders!
**UPDATE**
Cape Fear SORBA is proud to announce a partnership with Myrtle Beach based Eastern Mountain Bike Tours for our Summer Time Trial Series! Eastern Mountain Bike Tours offers guided mountain bike trips throughout North and South Carolina, and Georgia.
Want to take a group to Pisgah for the weekend?  We can help you do that!
Want to test your skills on downhill courses?  Monthly summer trips to Beech Mountain.
Want to explore the Forks Area Trail System?  We'll get you there.
We go where you want to go!
They are offering up their services for this event not only as a way for folks to ride up to the Time Trial Series each week, but also as our mobile command center and Master of Ceremony! Their bus has a wonderful PA system that is going to make this event even more big time than before!
So come out and enjoy what is sure to be a party! Who knows, you might get to dance on a bus with a disco ball!
**END UPDATE**
We are excited to announce the return of our local Summer Time Trial Series hosted at Brunswick Nature Park (BNP). All money collected through rider donations will go 100% to Covi Hazlewood, a young Wilmington rider and professional bike mechanic at Two Wheeler Dealer, who is fighting cancer. Covi has helped so many of us (including myself) dive into the sport of mountain biking and this is one small way we can show our love and support for him during this time.
TT Series will be 5 weeks long on Thursday late afternoons
Dates: June 14, 21, 28, July 5, 12 @ BNP
Registration opens at 6 pm @ open to everyone not just CFSORBA members
Riders start in staggered fashion at 6:30 pm
We request a donation of $5 when you enter the TT
ALL  donations go to Covi's fight against cancer
Course will be approximately 6 miles
Each week's winner receives a professional bike fit from Brandon Davis of Two Wheel Dealer
Each week's slowest rider receives a free bike tune up
Person who has the quickest overall time with all 5 weeks combined wins a prize
Person who has the slowest overall time with all 5 weeks combined wins a prize
One random name from all entries will be drawn via raffle style and receive a set of brand new CST tires each week.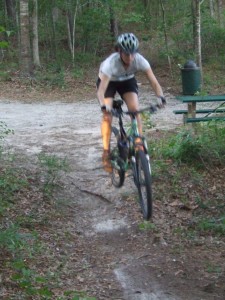 "Why should I be part of a Time Trial Series?  Being fairly new mountain biking myself, I asked this exact question to myself when I first heard about last summer's Time Trial Series.  In all honesty, I was quite embarrassed that I had to ask other riders exactly what a Time Trial was!  The truth of the matter was that I had NO IDEA the fun or benefit of a Time Trial.  As I started riding in last summer's TT series, I quickly realized several aspects of a Time Trial that aided someone in becoming a better rider.
One, in all reality, as you participate in the 5-week series, you are racing more against yourself each week than other riders.  As you become more familiar with the trail each week, you will see an improvement in your time over each race.  Two, since there is a 1-2 minute staggered start with each rider, you have a constant awareness that someone is in front of you and someone is behind you.  The rider in front gives you a mental feel of chasing someone down and the rider in the rear keeps your legs churning as you feel someone breathing down your neck.  Three, there is almost a guarantee that you will see your time improve over these 5 weeks. This builds your confidence no matter how long it takes you to cross the finish line in week one.
And of course do not forget, this year's TT will also benefit Covi Hazlewood, who needs all the help and encouragement we can give him during his chemotherapy.
See you on the trails with the clock in my hand!