2013 Sponsorship


The Coastal Carolina Off-Road Series (CCORS) is a Cross-Country Mountain Bike Race Series from February to May 2013. This will be the 14th year of the series. In 2012 there were over 500 entrants from around eastern North Carolina who traveled to the CCORS events. This year we have scheduled 6 races to be held along the coast of North and South Carolina.
1. Feb. 10, 2013 – Bicycle Post, Greenville, NC – XC
2. Feb. 24, 2013 – Blue Clay Bike Park, Wilmington NC –
3. March 17, 2013 – Henderson Pond, Jacksonville, NC – XC
4. April 7, 2013 – Horry County Bike & Run Park Myrtle Beach, SC – Short Track
5. April 21, 2013 – Bicycle Post, Greenville, NC – XC
6. May 5, 2013 – Brunswick Nature Park, Wilmington, NC – XC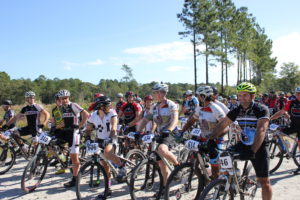 CCORS is a volunteer run series where all money raised is used to enhance and maintain the mountain bike trails used by the participating clubs. The clubs involved are ECVelo of Greenville, Cape Fear SORBA of Wilmington, DEC of Jacksonville,and the Waccamaw Trail Builders of Myrtle Beach. The goals of the series are to make quality mountain bike racing available to riders in Eastern North/South Carolina, to raise money to improve trail systems in our region, and bring awareness to bike-friendly businesses.
We hope your business will consider being a sponsor for the CCORS 2013 Series. As a business sponsor, your corporate name would be associated with all six bike races along the coast of North and South Carolina. The cost of title sponsorship for the 2013 Series is $300. The benefits of this sponsorship are listed:
– Business logo placed on a 4'x8' banner to be displayed behind the winners podium photos for all classes
– Business logo on every racer's number plate
– Hyperlinked business logo on CCORS website page (www.CCORS.com)**
– Business logo on all series flyers
– Business logo on all series email blasts
– Business logo on all MeetUp series pages.
– Business website is linked via CCORS Facebook page
**Note that the www.CCORS.com page will be brought to the CFSORBA webpage where we have had 38,000 visitors in 2012 which is a 73% increase from 2011.
Contact:
Cape Fear SORBA Bill Sessoms, Bill.Sessoms@TD.com, 910.465.6724